Classic™ Wood
September 1, 2022
Avante®
Aluminum & Glass Garage Doors
Modern glass and aluminum garage doors.
Modernize your home with our popular line-up of aluminum and glass garage doors. The durable aluminum frame is available in a number of colors, including clear, black and bronze anodized, to complement your home style. Multiple glass options allow you to bring as much or as little natural light in as well as control the level of privacy.
Overview
Clopay® Avante® garage doors are constructed with aluminum and glass panels, lending a clean and modern aesthetic to any home or building. Avante® doors come with a five-year warranty on the finish and a three-year warranty on hardware. Avante AX/AXU is characterized by the following features:
Durable, low-maintenance 2-1/8″ commercial grade aluminum frame with many glazing options.
Frame and solid aluminum panels available in choice of anodized and powder-coated finishes.
Polyurethane-insulated rails and stiles (AXU only)
Tempered full-view glass, acrylic or solid aluminum panel options. Insulated glass garage door panels are available for increased energy efficiency.
Choose from our selection of aluminum garage door panel colors: White, Bronze, Brown, Clear Anodized, Bronze Anodized, Black Anodized.
ColorBlast custom colors available.
Color-matched aluminum grip handle.
WINDCODE® product available. (Click for details)
Learn More in Our Buying Guide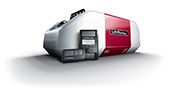 LIFTMASTER
®
ELITE SERIES™
Clopay Recommends
LiftMaster®
Elite Series® openers for these garage doors. These openers have a range of features that truly make lives easier.
Environmental Assurance
Clopay doors are compliant with environmental laws and regulations. Clopay doors do not contain HFCs. All Clopay doors are compliant with:
California SB 1013
Washington HB 1112 – Hydrofluorocarbon Greenhouse Gas Emissions
Canadian regulations amending the ozone-depleting substances and halocarbon alternatives regulations
---
Design Options
Customize your Clopay® Avante® garage doors with your choice of aluminum frame and panel combination. Control the privacy and amount of light to let into the room based on the type of panels you select, which come in glass, acrylic, polygal or solid aluminum finish. The aluminum frame is available in several standard colors: clear aluminum (anodized), standard white, bronze (painted), chocolate (painted), bronze (anodized), black (anodized), or dark bronze (anodized). If you need a very specific frame color, our ColorBlast® program allows you to select any color you want or pick from hundreds of Sherwin-Williams® color options.
CLEAR GLASS
GRAY TINTED GLASS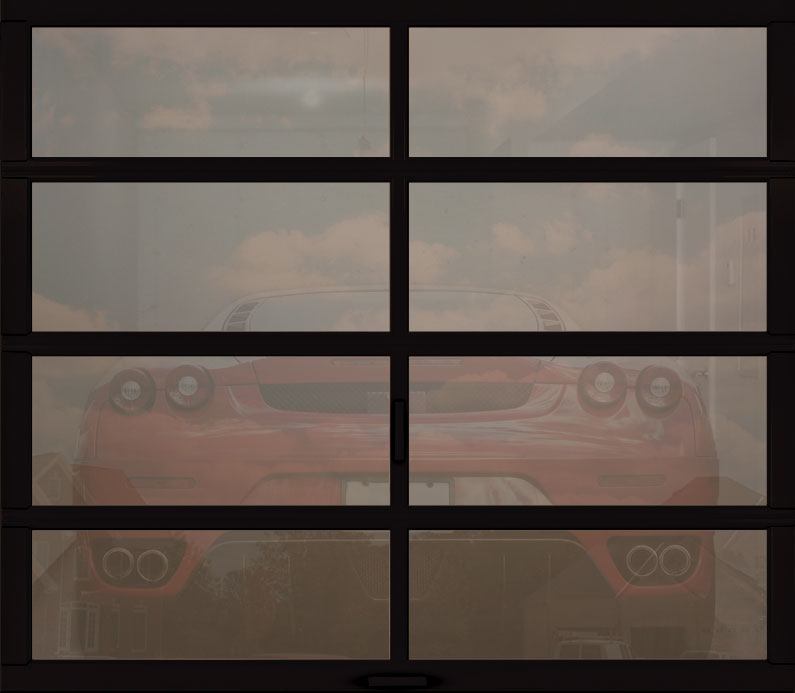 BRONZE TINTED GLASS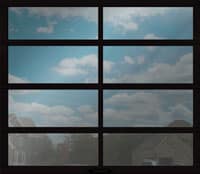 MIRRORED GLASS
OBSCURE GLASS
WHITE LAMINATE GLASS
FROSTED (SATIN ETCHED) GLASS OR FROSTED ACRYLIC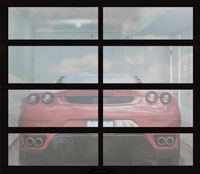 CLEAR ACRYLIC
GRAY ACRYLIC
WHITE ACRYLIC
CLEAR POLYGAL
BRONZE POLYGAL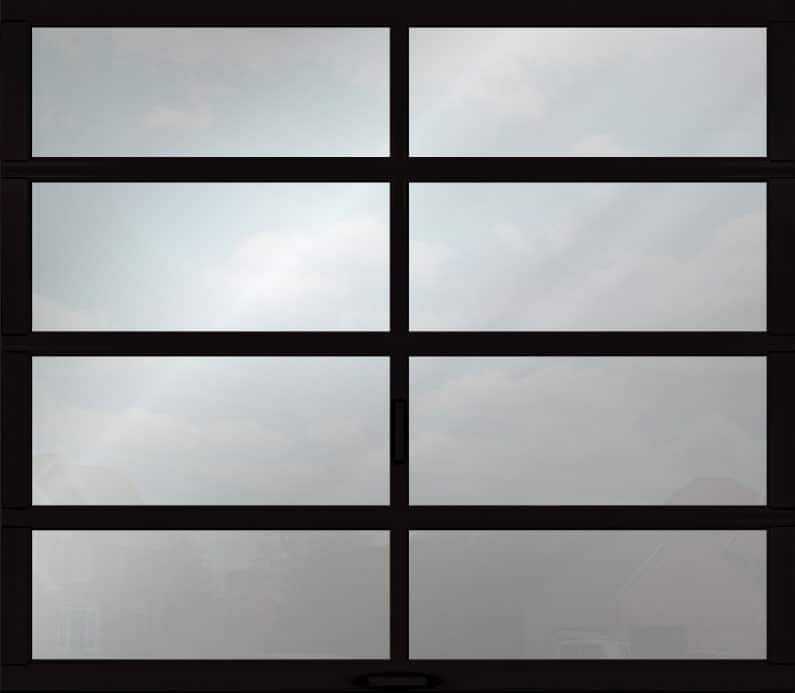 CLEAR ANODIZED (ALUMINUM PANEL)
*Satin etched is used in the AX/AXU models.
---
Color Options

CLEAR ALUMINUM (ANODIZED)
STANDARD WHITE
BRONZE (PAINTED)
CHOCOLATE (PAINTED)
BRONZE (ANODIZED)

BLACK (ANODIZED)
DARK BRONZE (ANODIZED)
Due to the anodizing process, color variation may occur. The use of "Bronze (Painted)" is recommended for a more consistent bronze finish color. Custom colors available.
---
Hardware Options
HANDLES
Optional Aluminum Grip Handle
---
Construction
Clopay® Avante® garage doors are manufactured in the United States by expert craftspeople. These glass and aluminum doors can be built with tempered glass (optional insulated glass), acrylic, polygal or solid aluminum frame panels. Also available is a polyurethane-insulated frame option with R-value of 3.8 (with clear insulated glass). The replaceable vinyl bottom weather seal in a rust-free aluminum retainer protects your garage (or any other room where your door is installed) from the outside elements.
---
Brochures
---
Installation and Care
---
Videos
VIDEOS
Clopay® AVANTE® Collection garage doors make a stunning architectural focal point in houses and buildings, and have been featured in key
home remodeling projects. Check out the videos below for an overview of the Avante® Collection, and a peek at the projects that feature this
product.
AVANTE® Collection Overview. Learn more about Clopay's popular aluminum and glass garage doors.
EPIC Development Home Remodel. See how Clopay's AVANTE® door helped modernize a 1970s home.
The New American Home. Watch how architect Jeff Berkus and builder John Anderson selected Clopay's AVANTE® Collection for their project.
House of Bryan on HGTV. See Clopay's Avante Collection featured on House of Bryan on HGTV.